Cheryl Roetzer, artist and owner of Cleveland-based Civilizations, will feature her hand-crafted artwork at the second annual Rocky River Fall Arts Festival in the Old Detroit Road area of Rocky River, Ohio, on Saturday, Sept. 18, 2010, 10 a.m. – 5 p.m., booth E2.
The festival features dozens of local artists. Cheryl will display a collection of original work, such as Civilizations mosaic crosses, photography, beaded jewelry, functional and decorative pottery, and handcrafted picture frames.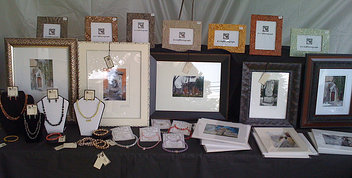 The festival is hosted by the Rocky River Parks and Recreation Foundation, which is a non-profit organization that administers the festival with the help of volunteers and the City of Rocky River. A portion of the proceeds from this year's festival will go to providing a scholarship to a graduating Rocky River High School student that will be attending an accredited school for art education.
The local sponsors who have contributed to this year's festival, include: First Federal of Lakewood, Fairview Hospital, Sweet Melissa's, 12five9, Howard Hanna Realtor Gloria Hardington, The Shops of Old River, Terrace Construction, Lakewood/ Rocky River Sunrise Rotary Club and Danny Boys.
Event Details
Where: Old Detroit Shopping Area (Detroit Rd. near Wooster Rd.)
Rocky River, Ohio 44116
When: Saturday, Sept.18, 2010, 10 a.m. – 5 p.m.
Cost: Admission is free and open to the public. There is free accessibly parking at the festival.
More information: Visit and connect to the Rocky River Fall Arts Festival Facebook Fan Page and Twitter @RR_FallArtsFest.
About Civilizations
Founded in 2004 by Cheryl Roetzer, Civilizations pottery, paintings and custom artwork can be found at the Artists' Colony, Olmsted Falls, Ohio, and at select Northeast Ohio events and fine arts festivals. Visit www.CivilizationsGallery.com for more information, or to place custom orders. You also can connect with Civilizations on Facebook. Cheryl's artwork is also sold on the Civilizations Etsy shop.
###