Cleveland fine artist to feature ceramics, jewelry, custom frames and original photographs.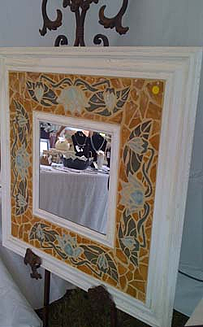 Cheryl Roetzer, owner of Cleveland-based Civilizations, will be among 200 fine artists exhibiting at the 18th annual Festival of the Arts on the Westlake Health Campus of St. John Medical Center, July 9-11, 2010, booth #230.
Cheryl will display a collection of original works, including: mosaic crosses, photography, beaded jewelry, functional and decorative pottery, and handcrafted picture frames.
Event Details
Where: St. John Medical Center, 29000 Center Ridge Rd., Westlake, Ohio 44145
When: Friday, July 9, 3:00 – 9:00 p.m.; Saturday, July 10, 10:00 a.m. – 7:00 p.m.; Sunday, July 11, 10:00 a.m. – 5:00 p.m.
Cost: Admission is free. There is a $3 per car parking fee that goes to support Community Outreach.
About Civilizations
Founded in 2004 by Cheryl Roetzer, Civilizations pottery, paintings and custom artwork can be found at the Artists' Colony, Olmsted Falls, Ohio, and at select Northeast Ohio events and fine arts festivals. Visit www.CivilizationsGallery.com for more information, or to place custom orders. You also can connect with Civilizations on Facebook.
# # #